The time has come for Helldivers to see light on the PC after half year since it has been released for PS4, Xbox One and Vita. From developers of Magicka, Arrowhead Game Studios finally released PC version of Helldivers, while they made sure that PC gamers can get this game with best experiance as possible.
Helldivers puts you in perspective of soldier who is fighting for the glory of the unified Super-Earth. Ongoing war between the aliens and our homeworld is shaped by influence of Starship Troopers and it lends the action a delicious sense of both humor and danger in best possible way.
Ruled under one "managed democracy", the inhabitants of Super-Earth feel it's their duty to expand and spread the message of this way of life to all they come across in the universe. Several races, however, wish to stand in the way of Super-Earth's all-powerful government, so conflict erupts on an intergalactic scale. This questionable galactic war is fought on three different fronts against the tech-heavy AI, Cyborgs and the Tyranid-esque bugs; while all have their own approach and require different type of fight and caution. With available ingame encyclopedia although only from your own experiance, you will quickly come to understanding that one weapon isnt going to solve all your problems so variety of different weapons, skills and features will be of use most of the time.
Your ultimate goal is that you must perform missions on a series of planets, pushing each enemy race back until you finally reach a homeworld in the hopes of conquering it.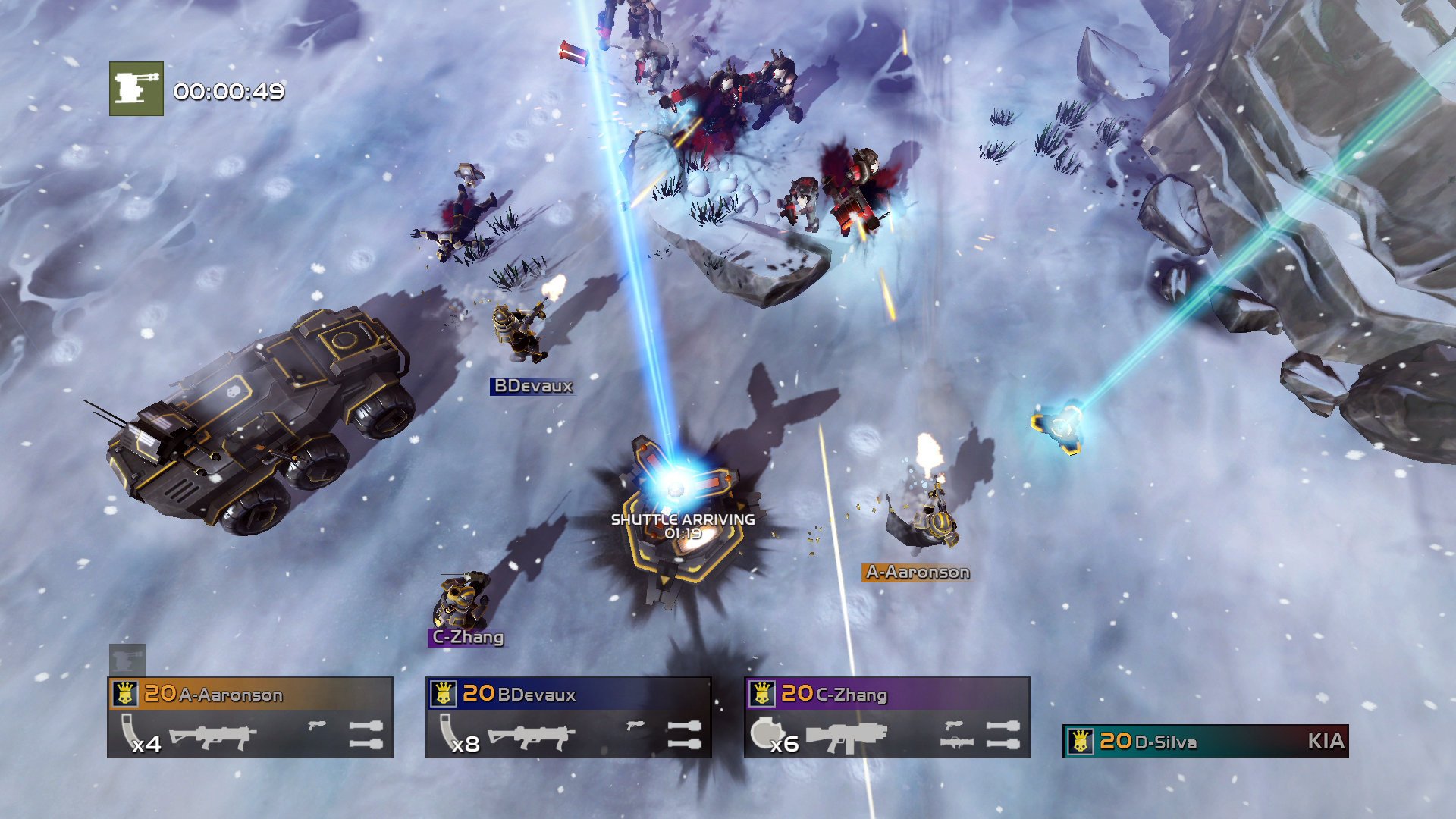 Amazing thing about Helldivers is that every planet in these sectors are procedurally generated which means that you will not encounter same terrain and overall ambient twice. While you fight your battles in war, eventually it's going to spill over either to the alien homeworld, or to your own if not enough people are fighting to protect and put end on this battle. Either way only way to resolve whole thing is to go through special event where everyone are called to make one final push or desperate last stand.
As you dive deeper into Helldivers you will unlock more weapons, more abilities and airdrops which will be of huge help and actually required especially if you try to fight your battles on your own while they will feel completely meaningful, since each ends up being particularly useful for certain objectives or against particular foes. You can only bring so much though, and adapting your loadout based on what your objectives are and what your teammates are bringing is where Helldivers exhibits much of its depth.
Each Helldiver can carry four special abilities known as "Stratagems" into battle, from calling in for an ammo drop to game-changing as having a vehicle, turret, or mech-battle armor delivered in order to help turn the tide of a battle or beat a hasty retreat. The Stratagems add some real diversity to the gameplay, and being able to utilize them at opportune times often means the difference between defeat and victory. Teamwork is requred and necessary especially in making perfect combo loadout which unfortunately put an early end to a enjoyable singleplayer progression where more players are needed.
From online to couch coop with controllers you cant go wrong, fun is almost endless and keeps your attention up all the time. Along with choosing proper gear before every mission you do have choice of choosing location where to be droped and start action without being restricted to pick locations near actual objectives although roaming and exploring around while danger awaits you behind rocks or under ground will try too keep you busy and interfere, is still there with some benefits. Goals aswel as Stratagems can be aquired and completed by doing required combos on arrow keys while you are pressured by attacking enemies or time limit which slightly reminds on Magicka mechanics.
Graphics are not really top notch but having fluid gameplay and animations including very well optimized engine makes perfect combo and really good experiance. Art style and variety of backgrounds and terrains including effects and possibility to destroy some of the enemies piece by piece are great including nicely animated loading screens and main control room where you are starting all missions from.
Amazing coop experiance with up to four players where team work is more then required in endless and exhausting effort to save your homeworld is more then good reason to spend couple bucks and set yourself for a quite some time. If you love Starship Troopers vibes, prepare to become soldier destined for a greater goals.
Check out videos for more detailed information and experiance !
[review]